In recent years, NFTs' (Non-Fungible Tokens) fame has skyrocketed as creators, singers, and collectors have discovered the advantages of using these tokens to publicize and monetize their work. NFTs have opened up uncharted territory in the art industry by allowing creators of digital works to earn money from them.
Specific collections have become well-known for their high costs and exclusivity as the NFT industry has grown. This article will investigate the most expensive NFT collections that have sold for the highest amounts to date. Specifically, we will examine the artists, the items, and the prices that have caused these collections to be in such high demand.
We will explore the world of NFTs and discover the collections that have captivated the interest of art collectors and fans around the globe, from Beeple's innovative digital artwork to crypto punks.
Are Non-Fungible Tokens a Wave?
When considering the application of NFTs to digital art, many have predicted that the recent rise in demand for (and price of) such artworks is a wave that will soon burst. The NFT art market has many similarities to the conventional one.
In contrast to works that need little effort to develop but are now worth millions of dollars, some pieces demand technical talent and endless hours of labor from an artist but are never wanted by the public and maintain little value. As fine art has existed for generations, it makes sense that NFTs would develop out of it.
There will always be doubters, just as there were when Bitcoin was only a small percentage of what it is today, and the same is true with NFT art in the crypto world. Both technology and the industry are expected to continue expanding. This is particularly true for applications using fractional NFTs.
Top Most Expensive NFT Collections
To understand what makes the costliest projects so valuable, we looked at the most expensive NFT collection in the area. We also spoke with other professionals to get their input on how these initiatives may be made more robust over time.
The terms of both the number pixelated punk-style visuals in CryptoPunks make it a strong contender for the title of most significant and historically significant NFT collection to date. One of the first initiatives to demonstrate the possibility of digital ownership, CryptoPunks, was released in 2017 by Larva Labs and bought by Yuga Labs in 2022. In the wake of NFTs' general adoption, Punks have become among the most valuable digital collections (and high status), with celebrities and ultra-wealthy collectors willing to spend millions to join the group.
As a symbol of the bigger handoff in widespread NFT adoption, the Bored Ape Yacht Club overturned the floor at CryptoPunks in December 2021.
Analysts have claimed that CryptoPunks' continued popularity is due to the group's historical relevance. There is monetary value in history and novelty regarding NFT enterprises. According to Liam Herbst, an NFT expert, and experienced collector, "historical breakthrough initiatives have the greatest lasting power" (such as CryptoPunks).
In contrast to the automatic attention and social capital bestowed on historical endeavors, the latter must be earned via sustained and consistent effort. When betting on new initiatives in the last year, look for those managed by professionals in the industry who have been there for a while and will likely be for the foreseeable future. Even if their collections could be more noteworthy now, they'll eventually attract much interest.
A " Clock " record will be in the NFT sales history annals. Designed by an anonymous artist named Pak, "Clock" is an NFT that portrays a clock keeping track of the number of days WikiLeaks founder Julian Assange has spent behind bars.
The work was the first offering from Pak and Assange's Censored collection, a series of artworks being auctioned off to benefit Assange's release from prison. As a follow-up to the "Clock" public auction, from which earnings went to the non-profit Wau Hu Foundation, which has supported WikiLeaks since 2009, Censored also has several tokenized texts offered for optional donations.
To "inspire tremendous solidarity and struggle for" Assange's liberation, a newly created decentralized autonomous organization called AssangeDAO bought the domain name "Clock." A total of $55 million was collected for the acquisition.
According to the CEO of the NFT assessment business Appraisal Bureau, a current estimated value can only be assigned with a clearly defined objective or use cases, such as for coverage or tax reasons. Although this may be true, she argues, "the retail prices of XCOPY and Pak are evidence that there is a marketplace for NFT art." With the current exchange rate of 16,593 ETH, the value is almost $20.2 million.
Bored Ape Yacht Club, created by Yuga Labs, is now among the most valuable NFT collections in the world, desired by ordinary collectors and A-listers. As a result of Pranksy's prominence in the NFT community, sales picked up after a poor start after the first debut in late April 2021.
The initial floor price of the project was far lower than its current value of 101 ETH (nearly $204,000). Yuga Labs is amassing a multi-billion-dollar media empire by purchasing CryptoPunks and Meebits and raising $450 million from Andreessen Horowitz.
A vital selling element of BAYC is permission for public and commercial use, rarity, and signaling power. Someone with authority to use their Ape commercially may utilize the creature's intellectual property to start new companies and negotiate licensing agreements. BAYC has developed a suite of appealing member services, including merchandise available only to members, events, and profitable airdrops like Mutant Ape Yacht Clube.
According to Herbst, the potential of a collection to serve as a status thing is just as crucial as its historical relevance in determining the longevity of a project. As he puts it, "All people crave status, and NFTs are one of the finest ways to flaunt status online," which is why BAYC is so appealing. Like how a well-known person endorsing a particular apparel brand may boost its popularity, notable investors can increase a project's prominence.
The durability of BAYC may be attributed in part to its many practical applications. Herbst elaborates, "Projects might give a variety of opportunities and prizes that users will promote to enhance the project's reputation.
PFP holders develop an emotional connection to their product, further solidifying their enthusiasm for the PFP's sponsoring company. If you want your project to last, you must develop a compelling history, create a memorable brand, and expand your circle of believers.
The Mutant Ape Yacht Club began as a private airdrop for its members, who were rewarded with digital "mutant serum" in exchange for the Bored Ape cryptocurrency. Mutant Apes were produced when their owners administered the serum (a blockchain-based transaction). An extra 10,000 mutants were made available to the public via Dutch bidding after the first airdrop of 10,000 to attract more participants to the BAYC community at a reduced cost.
MAYC has risen to prominence as an independent blue-chip NFT on the backs of the successes of Yuga Labs and BAYC. MAYC has been steadily increasing in price, and its recent peak of approximately 20 ETH (about $40,000 at the moment of this writing) shows no indications of slowing down.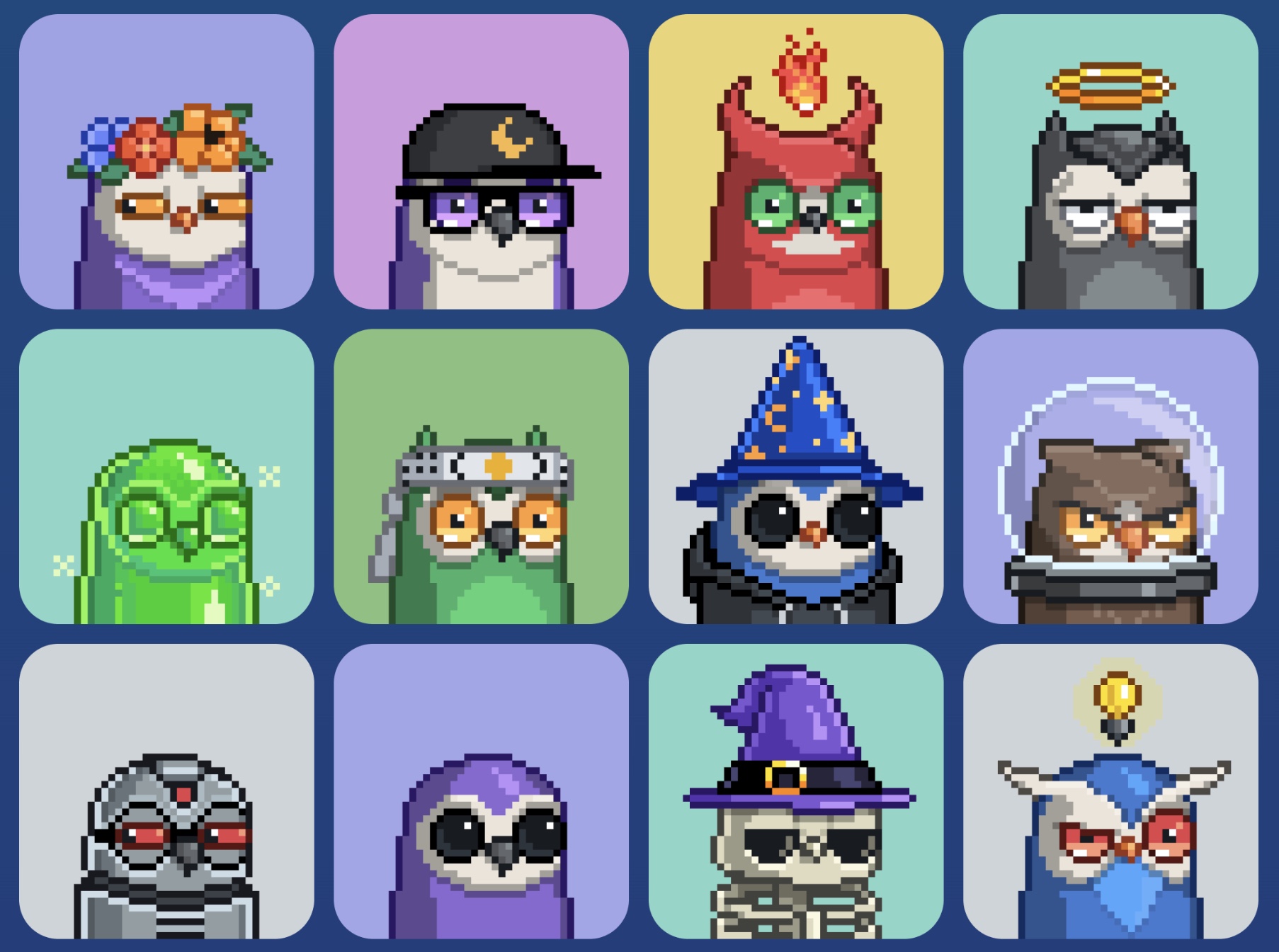 In Moonbirds, you'll find 10,000 owl NFTs with pixelated designs and the ability to use utilities. These are the authorized NFTs of the powerful and exclusive PROOF Group of artists and fans of rare and valuable NFTs. Every PROOF member got two Moonbirds on the day they were released, April 16, 2022.
After just 48 hours in the private market, Moonbirds had a floor price of 38.5 ETH, having seen over $66,000 ETH ($191 million) in trading activity. The price has leveled out since then and is slightly over 22 ETH (almost $44,000). With the visuals, Moonbirds also revealed a new feature called "nesting," which allows token holders to invest their Moonbirds for a higher income.
The astounding early success of this venture made it clear that it ought to be included in a list of the costliest NFT collections. But keep in mind that it's in its infancy. This leaves the future of Moonbirds uncertain. But, Moonbirds has a good chance of becoming a blue-chip company in its own right.
Otherdeeds

As the initial phase of their grander metaverse aspirations, Yuga Labs introduced ApeCoin and the Otherside in March 2022. More than a hundred thousand parcels of land in the Otherside Metaverse are compiled in the database known as Otherdeeds. Although the true nature of Otherdeeds has yet to be disclosed, players can expect to find that every highly desirable plot comes with a wide range of in-game features.
On April 30, 2022, the first group of 55,000 Otherdeeds was issued through the public mint, with the additional 45,000 distributed to current BAYC/MAYC holders, Yuga Labs staff, and project team members. Each Otherdeed originally cost 305 ApeCoin, or about $20,000 at the time of minting, plus at least an extra ETH of gas, or around $2,750.
The floor price of Otherdeeds swiftly increased to roughly 6.5 ETH after its contentious debut, which was responsible for the loss of over $157 million in ETH. Since then, they have settled back to a more reasonable level of around 3 ETH (more than $6,000).
Final Thoughts
Digital artwork and other one-of-a-kind productions have fetched multimillion-dollar prices because of the increasing popularity of non-fungible tokens (NFTs). It is undeniable that NFTs have captivated the interest of creators, collectors, and investors alike, despite worries about the durability of high prices and the volatility of the NFT market.
Whether the NFT market will become a permanent and substantial part of the art and collectibles industry or a transitory trend remains to be seen as it develops and matures. Nevertheless, NFTs are here to stay, given their potential to revolutionize monetizing and publicizing original works. We hope you'll get the best knowledge about the most expensive NFT collections.